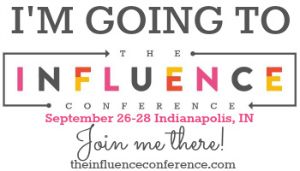 This is me and I am part of a fun link up with other women who will be attending the Influence Conference. I have been looking forward to this event for so long it is hard to believe it is almost here!
Two things I will most definitely pack.
1.) My camera( my job will actually be to photograph the event)
2.) My favorite yellow box flip flops that I pretty much wear until there is snow on the ground.
Two things I am most looking forward to .....
1.) to get to meet so many ladies that I already feel like I know but have never really met and also new ladies who I don't know anything about.
2.) being open and willing to learn and be used in whatever ways the Lord wants.